Click the link below the picture!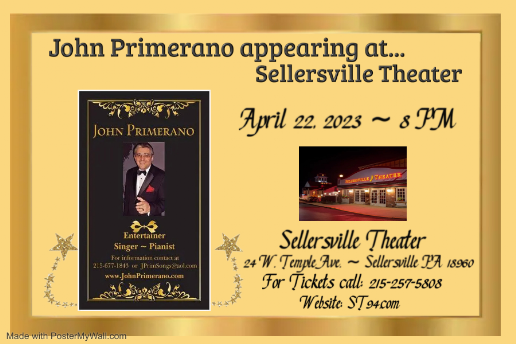 JOHN PRIMERANO is a singer, pianist, songwriter and author who has appeared throughout the Mid-Atlantic region (Long Island, NY through Maryland). He is a musical entertainer whose repertoire consists of a wide variety of standard, easy listening and original songs.

A strong, live performer equally at home performing ballads and sing-a-longs as he is with bossa novas and 1950's rock n' roll, John, who started performing professionally at age 15, has worked with such performers as "Pretty Perky" Peggy King, Al Alberts, Vaughn Monroe, Woody Herman, Jimmy Durante, Mickey Shaugnessy and Guy Marks.
In addition to his musical career, John has acted in commercials, industrial films and has worked in feature films such as Creed II, Rocky Balboa (both starring Sylvester Stallone), Made In Chinatown (with cast members of The Sopranos and Goodfellas such as Tony Darrow and Vincent Pastore), 21 Bridges, Shazaam, The Retaliators, Unbreakable, Philadelphia, Two Bits, Mannequin, the mini-series George Washington (starring Barry Bostwick and Robert Stack) and the CBS television series Hack.
In December, 2016, John launched JPM Productions to produce his own concerts. Since then, he has had a sucessful run at several venues in the Delaware Valley area.