CD: Somewhere South of Heaven
John's current CD, Somewhere South of Heaven, is available for mail order. The CD contains five well known standards and five of John's original songs, including "Maybe Someday" and "Saloon Song". Both of these songs have received national and international airplay.
This CD can be ordered directly from JPM Productions for US$17.50 plus US$2.50 shipping. Click here to get the order form.
This CD may also be purchased on Amazon.
This CD may also be purchased at the following stores:
Pat's Music Center,

7302 Frankford Ave, Philadelphia, PA 19136, phone (215)708-0444

Barnes and Noble locations in Willow Grove, PA and Fairless Hills, PA




Village Music World, 197 Bleeker Street, #1, New York City, NY 10012, phone

(212) 674-5463
TRACK LISTING - FOR ORIGINAL SONGS, CLICK ON THE PLAYER BARS TO HEAR SAMPLES
2. I Only Have Eyes For You

3. Hold Me In Your Arms Again
4. Somewhere South of Heaven
5. It Had To Be You

6. Ace In The Hole

8. Again

10. Gone Without Goodbyes
What people are saying about Somewhere South of Heaven
Review in Primo Magazine, Second Edition, July 2019
John Primerano has an extraordinary voice, in line with the passion and emotional range of great Italian crooners.
Years of voice training and piano lessons while growing up in Philadelphia is part of the journey. A formal study with the mastery of scales, notes, and chords is adjoined with endless observation of great singers and musicians for contrast and comparison. We get it all and then some in Primerano's phenomenal CD "Somewhere South of Heaven."
What immediately impresses you about Primerano's work is his originality. He wrote and arranged half the songs in "Somewhere South of Heaven," including its title track. Why this is especially unique is
the style of music - jazz and traditional pop; with one song that's country. Frank Sinatra said in an interview a few years before he died that a great frustration in the latter stage of his career was the lack of new and original songs in jazz and traditional pop. Neither rock nor R&B could apply. It has been too long since we had the likes of Burt Bacharach or Jimmy Webb to write fresh material, either in jazz or traditional pop.
His songs could be sung by Sinatra, if he were still alive, or any of the top line crooners…including himself. Primerano has a wonderful voice and it shows in the entirety of the CD.
The first song "Maybe Someday" is very melodic with piano, front and center. The song was written and arranged by Primerano and conveys the theme of originality throughout the CD. The second and third
songs show off his vocal range. There is Henry Warren's classic "I Only Have Eyes for You" and Primerano's own, "Hold Me in Your Arms Again."
The title track "Somewhere South of Heaven" has all the makings of a country music hit. The song begins in acapella:
"Somewhere south of heaven there is a girl who won't do me right.
But, somewhere south of heaven I found a haven from the night.
She says she will never leave me, but I know here too darn well.
She's somewhere south of heaven but she's a little bit north of hell."
When Primerano sings the wonderful jazz ballad, "It Had to Be You," he touches all the notes in brisk vibrato. "Ace In the Hole" follows as an old jazz song that dates back to 1904, written by James Dempsey
and George Mitchell. Primerano is no doubt versatile; as comfortable with this song as he is with anything in the contemporary vein.
Up next is "Saloon Song," written by Primerano. One immediately thinks of Sinatra's "One for My Baby." This might be Primerano's best song. The takeaway lyrics:
"So let me hear that saloon song.
Play me that star-crossed lover's score.
No time to hear a moon June spoon song.
Just make it sad…I do implore…while I am sipping on number four…"
"Again" is a song from 1949 by Dorcas Cochran and Lionel Newman. Primerano sings it as good as Vic Damone did 70 years ago. Italian is heard when he sings "Al Di La," a song originally composed in
1962 by Carlo Donida with lyrics by Giulio Rapetti, a.k.a. Mogol. The final song is "Gone Without Goodbyes", written and arranged by Primerano. It is a fusion of jazz and R&B and could easily be a mainstream
hit on today's pop radio.
Music and singing are tied together in the DNA of all Italians; but some do it better than the rest of us. Count John Primerano among them. He has the creative talent and voice that makes "Somewhere South
of Heaven" a most cherished CD

.
Compliments from The Amazing Kreskin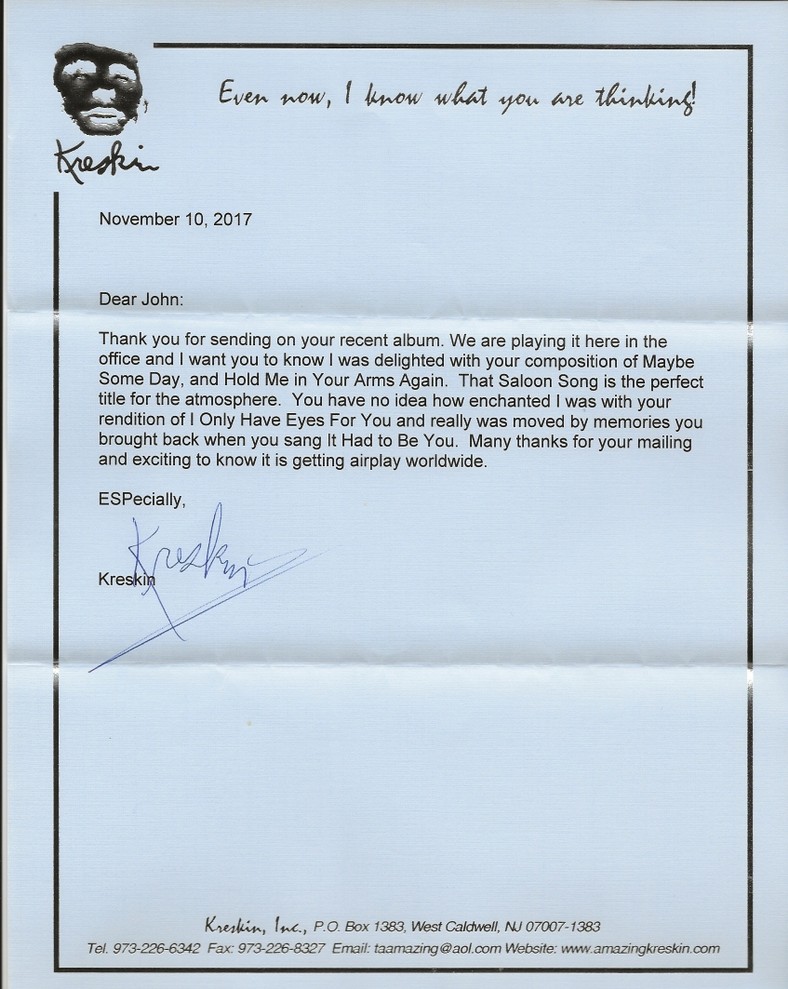 Compliments from
Vito Fera Owner, Network Sound and Video, Inc.
It's hard to describe a guy who is much smoother a singer/songwriter/pianist than John. His CD is a must have for your music collection!
Compliments from Dan Singer
Several years ago, before John's CD was completed, John was performing in New York City. During the engagement, John spoke with InTune International's album reviewer Dan Singer, who was in attendance. Upon hearing John's original songs and learning of John's plan to release a CD, Mr. Singer suggested to John that the name of the album should be "I'm Too Good For This Room".
Patricia Vinci, author of Frank'ly Dickens and President of the Philadelphia chapter of the Dickens Society
Primerano's CD, "Somewhere South of Heaven", has a fine selection of songs that he sings in the always appealing free and easy style of Bobby Darin. In addition to the standards, John sings five lovely songs that he composed and accompanies himself on the piano. This excellent musician/composer/song stylist is adept in setting a soft romantic mood in listening; a mood where you feel you are the only one listening and John is singing directly to you. It is reassuring to know there is still talent out there producing the kind of music many of us still long to hear.
O's Place Jazz Magazine, February 2011
O's Notes: John is a balladeer and pianist. He teams up with bassist Ron Cochran and Sal Centola (d) to record a mix of ten originals and classics. They use electronics to fill in where appropriate and keep things swinging. Primerano is a veteran musician based in Philadelphia. This 2007 release showcases his depth as a performer with ballads, country, pop tunes. It is a good representation of the man and his music.
Big Band Buddies Magazine (U.K.), March 2010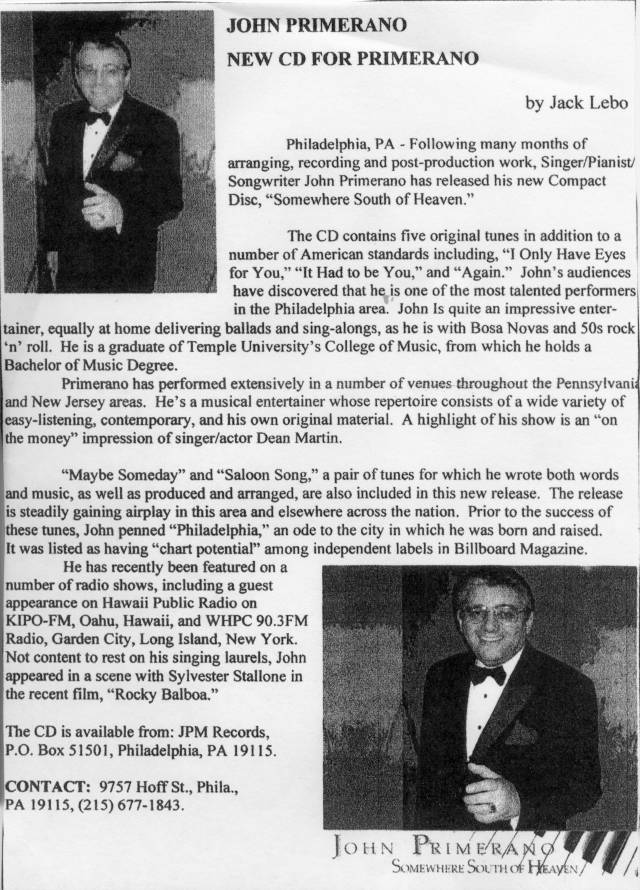 Album notes by Anthony DeFlorio III
Maybe Someday - This is one of John Primerano's more familiar recordings which has received significant airplay in the past few years. If this isn't a standard, then I don't know music! Primerano is at his very best with this lost-love ballad recording on which he wrote, arranged, produced, sung and played piano. All of his considerable talents are on display for all to hear and this recording will stay with you like, well...an American Popular Standard. The vocalists who are complaining about good songs not being written anymore, open your ears and listen to this recording.

I Only Have Eyes For You - The eyes have it. Primerano and his crack rhythm section take a swing at this Dubin-Warren chestnut with a nod to the Red Norvo Trio of old. It's like a trip back to the swanky nightclubs of the '50's. John's easy swinging electric piano leads this multi-layered arrangement with a fine solo. He finds variations and modulations in this familiar melody which has been a favorite of jazzmen for over half a century. The Basie tag finishes out this enjoyable track.
Hold Me In Your Arms Again - This is a Primerano original. John gives this number a Latinesque beat, a driving Bossa Nova, on his favorite topic, love gone wrong. This track grabs you at the start and doesn't let go. John's lyrics are intelligent, never trite, and his piano solo is excellent work. What woman could resist this straightforward request?
Somewhere South Of Heaven - The album's title track, it is not just a clever phrase, but a trip to Primerano country. John's original melody and witty lyric proves that whether they're city or country, girls are hard to figure. This is the kind of material that Kenny Rogers should be looking for. Primerano doubles his own vocal to create a country harmony sound ala the Oak Ridge Boys with an added tasty bit of harmonica. This is not a country parody, but just John showing his versatility in the country idiom.
It Had To Be You - This great old standard is reinterpreted by John Primerano as the tender ballad it was intended to be. Join him at the piano bar as he deftly duets his own voice and instrument as if they were two different entities. John's version is closer to Sinatra than Connick, but also all Primerano as he deliberately pares down the arrangement to just his vocal and the piano. John includes the beautiful and rarely heard verse for this song and his lyrical interpretation is sensitive and direct. He doesn't croon, but sincerely delivers the straightforward declaration of love. John achieves what he set out to do on this song.
Ace In The Hole - Back in the 1960's, cult favorite Jimmy Roselli recorded two albums worth of "Saloon Songs". This was one of them. It evoked the memory of the old-time corner saloons of the early 1900's: dance hall girls, barrel house piano, nostalgic, sentimental sing-a-long songs. More about Mr. Roselli and Saloon Songs later. In this track, John draws on his thirty-plus years as an entertainer to demonstrate how to put over a crowd pleaser. He not only sings and plays old rag-timely piano but also throws in his W.C. Fields impression along with the tongue-in-cheek humor. The long verse leads into the Primerano trio playing with authentic sounds of clarinet and banjo and John's piano solo. John empathizes with this down on his luck gambler, and so will you.
Saloon Song - John Primerano's masterpiece. An almost five minute short story in song that takes you into the proverbial saloon. You can almost smell the stale smoky air, taste the watered down liquor but also hear the gifted, underrated piano player. This is the work of a man who has spent many a night playing in a real saloon. John is the real "piano man". Primerano takes what could have been a trite situation and truly puts you into the head of the poor guy who has lost the girl and has come to drown his sorrows in booze and music. I guarantee that he won't get a hangover from John's song. Although John admits he had Tony Bennett in mind when he wrote the song, I think it would be ideal for Mr. Roselli's fourth volume of Saloon Songs. Somebody please get on a plane to Florida with a lead sheet and pull Jimmy off the beach and into a recording studio!
Again - John uses a simple arrangement of piano and rhythm section to deliver a straightforward reading of this vintage love ballad. A nice piano solo allows Primerano to show off his keyboard chops.
Al Di La - John Primerano's nod to his Italian heritage is this version of Emilio Pericoli's huge Italian Language hit from 1962. It seems as if every singer with a vowel on the end of his name has taken a crack at this tune usually cooking in a sauce of 101 mandolins that obscure the English lyrics written by our mutual friend, Ervin Drake.
Gone Without Goodbyes - Another Primerano original composition, this tune has a contemporary "'70s" feel. The rhythm section lays down a driving bass beat over the memorable lyrics about, what else, a lost love. This recording puts back both the "adult" and "contemporary" in that dormant format. Are you listening, Englebert or Dionne Warwick?
More Impressions of John Primerano, by Richard Grudens
Maybe Someday - True John Primerano is done here so well with a mixture of orchestral backing piano and John's belief in his own lyrics that recount a simple story of lost love with a possible hope for a future, if there would be time, but maybe it's too late after all. This song would hold up on a life of its own if only the recording world would recognize its merits. John presents it as a featured selection to lucky listeners.
I Only Have Eyes For You - It is done with a flavored upbeat take. John has an adventurous time with a knack of bringing out nice meanings to old, familiar standards. It's like hearing these songs for the very first time to those of us unfamiliar with such tunes.
Hold Me In Your Arms Again - Here is a snappy Primerano composition recalling his other gem, Maybe Someday. However, this is a bouncy version with a delivery that is direct and outstanding, sung with chilling truth, flash...and deliberate vocal passion. I like this one a lot.
Somewhere South Of Heaven. John likes to sing this country-style composition that he has written in the truest Nashville tradition. This is the kind of stuff you find in time capsules down the road. He glides through it easily and you can sit back and enjoy this different Primerano material.
It Had To Be You - A perennial favorite with so many singers over the years. It is worked nicely by John with his own special piano and the often left out verse. Actually an important part of the performance. I love It Had To Be You, an honest, heartfelt version if ever there was one. The piano is fine support, too.
Ace In The Hole - Performed with spunk and a vaudeville touch - ala George M. Cohan. Even the rinky-tink piano certifies this neat little little novelty tune and John does it great justice. He has lots of fun, besides. Good effervescent performance!
Saloon Song - An open salute to Frank Sinatra and Tony Bennett, two of the greatest saloon singers of our time and fully acknowledged by its author, John Primerano himself. Saloon Song is reminiscent of Sinatra's One For My Baby and Bennett's I Left My Heart In San Francisco. This is John's great song in both composition and performance, a nice contribution to the Great American Songbook existing there as well as any other song of its kind.
Again - Well performed in John's own special way, notably different from others who have performed it, like Vic Damone. "I did it in a quasi-'50s style to give it a a different touch," said John. A varied and impressive account of an old standard.
Al Di La - Written in part by my old friend Ervin Drake (I Believe, It Was A Very Good Year). It is performed beautifully. This is a good Primerano material, even surpassing other noted recordings of this timeless song. There is rare passion in this delicious musical treat. Great sincerity abounds here. John Primerano has found his niche with this treasured tune. A nice Italian-style accompaniment and vocal efforts to make it, for me, the best of the album.
Gone Without Goodbyes - Now here is a tune that tells a story of a love gone wrong with no goodbyes up front and John delivers it in his familiar style that has endeared him to thousands of fans.
The Singles:
Addio, Amore
and
Philadelphia
This new CD and these singles will soon be available for purchase and download online. Please check back for updates.